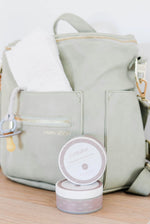 Here are my five diaper bag must-haves for fall, because packing your diaper bag for family adventures shouldn't be scary... save the fear for Halloween. 
Living in the Northeast, we eat, sleep, and breathe autumnal beauty. It's kind of in our DNA. In fact, if you haven't thrown on a sweater by mid-October and visited a local pumpkin patch, sipped cider, or taken a drive to watch the changing of the colors… are you even living? 
Alas, enjoying the beauty of the season isn't as easy with two kids in tow. As a mother of two precious accessory-loving, toy-hauling children, I've got my diaper bag packing down to a science. Typically, I swap out diaper bag essentials every season to ensure we've got exactly what we need. So, I thought I'd share a bit about the fall must-haves we'd be lost (in a corn maze) without! 
Here are my diaper bag must-haves for fall.
Let's face it, diapering on the road means scrubbing your hands with the not-so-mild soaps that gas stations and markets tend to have. Lately, it feels like when I'm not washing my hands I'm applying hand sanitizer! Hanahana Beauty's Unscented Shea has been a lifesaver for me. It keeps my skin and my baby's skin soft and supple no matter where we are and what we're doing! It's an absolute must-have for my purse, diaper bag, home, and anywhere you'll find me and my crew. 
My one-year-old has this cute game he plays where he likes to toss his shoes off in the least convenient instances. Hopping on the train at the zoo. Right out of the stroller. In the grocery store, in a crowded aisle… you name it- they're gone! I love the old-school Vans because I can strap them on tight! I toss a pair in our diaper bag so I always have a spare pair of trusty kicks for him that I know he won't kick off.   
More fall-time family fun means more time in the car. Whether you're headed out for an afternoon of football or an evening around a bonfire, you're probably going to have to change a diaper. Diapering on the road can be stressful- but with the right products, it doesn't have to be painful! Of course, I keep Curasalve Diaper Rash Treatment Paste and our new silicone applicator in our diaper bag at all times. Not just a shameless plug, our silicone applicator keeps my hands as clean as can be while changing diapers on the go! Plus, our thick and creamy formula shields baby's skin from wetness even longer than leading brands (hello, long car naps!) 
In consideration of Covid, I've been doing more to keep my babies out of public restrooms. I know we can't protect them from everything, but if I can weed out unnecessary contact with surfaces and strangers - I'm all for it. It's super stylish, functional, and makes diapering whenever, wherever, a little less hectic! 
WaterWipes are "the next best thing to cotton, wool, and water." Perfect for taking along in our diaper bag any season, you can bet I love these, even more, when the caramel apples and melted marshmallows of fall make an appearance. Our family chooses natural, chemical-free products whenever possible, so WaterWipes are our go-to diaper bag wipe.