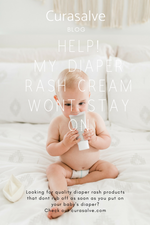 Hi there!
Welcome to the Curasalve blog.  You are likely here because you are exasperated with diaper rash creams that don't work.
Trust me, I've been there too!
I go to my local store and purchase a diaper rash cream for my baby's irritated skin.  I get home, attempt to apply the cream, and it wont stick to the rash site.
Wait..what?! The cream I purchased to coat her skin and protect the rash site from further irritation is not doing it's job.  Yes, that is a thing.  A very annoying thing that I've solved with the Curasalve Treatment Paste.
Diaper rash creams should adhere to the skin and protect your baby's bum from irritants.  Quite often they rub off as soon as you put on your baby's diaper or fail to adhere to the rash site at all.  The reason this is happening is because you are using a thin, water-based cream lacking the appropriate consistency and ingredients to protect your baby's bum.
When your baby has a red, irritated bum a thick, shielding paste is needed.  One that adheres to the skin to completely coat the rash site. A cream is useless if it doesn't coat the rash site.  A rash continues when exposed to wetness in the diaper.
Curasalve's treatment paste is the only diaper rash product that will coat your baby's bum and stay on the skin between diaper changes and over night when the bum is exposed to irritants in the diaper for longer periods of time.
Made with 40% non-nano zinc oxide, organic coconut oil, organic jojoba oil, organic aloe vera and organic beeswax. Five simple, non-toxic ingredients to provide maximum protection for your baby's bum.
Check it out and let me know what you think!
 Xoxo,
Kelley